Press Release: Svea Solar in the running towards shaping a fossil free Europe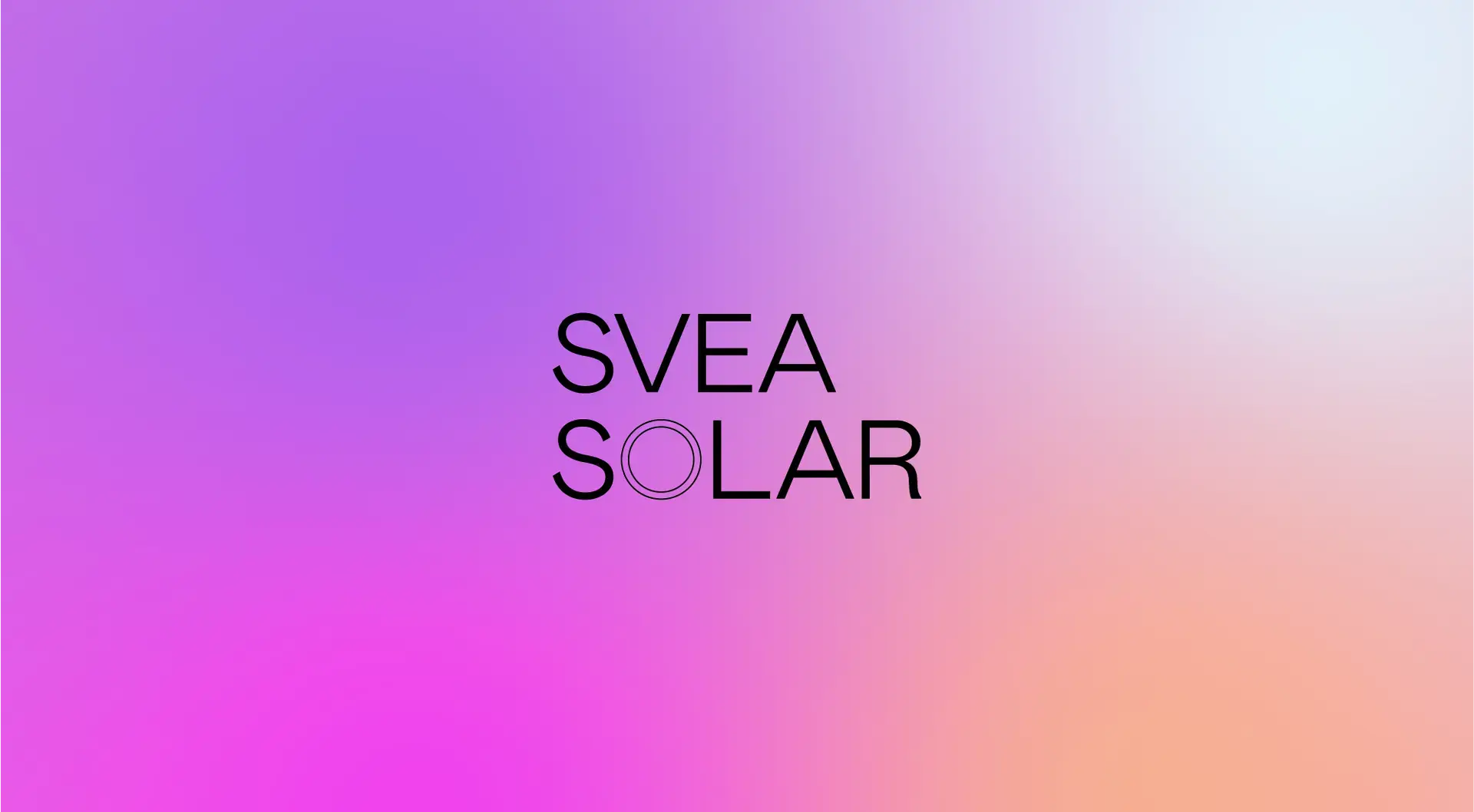 It started with solar panel sales from an apartment in Solna, Sweden and now, six years later, the success story is a fact. Today, Svea Solar is the market-leading B2C supplier of solar energy in Sweden and accounts for a rough one-thousandth of total solar panel sales worldwide. Since its inception, the goal has been clear – an energy system that is fossil-free, self-sufficient and that allows for uncompromising consumption without damaging the planet. Equipped with a new visual identity launched in April, Svea Solar is now taking a larger step into Europe. With the acquisition of the Solarcentury's residential business, Svea Solar shows that it is now ready to really make an impact in this crucial matter for the future.
Spawned from the idea of providing solar energy system that was not only a clean and smart energy solution, but also easy to control and beautiful to look at, Svea Solar was born in 2014. The goal was clear from the start - to speed up the process towards sustainable living by offering a total solution for 100% renewable energy production and consumption. Svea Solar today offers a solar cell system, with panels, batteries, car chargers and electricity contracts with 100% solar energy - all collected in an app that makes consumption easy to survey and control. In 2019, Svea Solar initiated a collaboration with IKEA as a supplier and installer of the "Solstråle"-product and earlier in March Axel Johnson invested an undisclosed amount through Axsol and took a significant minority position. With its national success at large, Svea Solar is now ready to take additional market share in Europe after entering Spain in 2019.
With the acquisition of the solar panel installer Solarcentury's residential business and its long-term business collaboration with IKEA, Svea Solar is adding the Netherlands, Belgium and Germany to the European portfolio. The acquisition has taken effect on April 1st, 2020 thereby making Svea Solar one of the leading residential solar actors in the European market.
- "We are incredibly happy to be able to offer our product in additional markets and thus come one step closer to sustainable and self-sufficient energy consumption. Sweden has already come a long way in terms of renewable energy and we hope to see the same development in the rest of Europe, where we already see great demand for our products", says Björn Lind, COO and co-founder of Svea Solar.
The market entry is seen as an opportunity to also launch Svea Solar's full offering in all markets, thereby creating a stronger foundation in the work to make solar energy accessible to everyone.
- "The interest in renewable energy that we have seen is growing steadily domestically, we now want to fuel on a larger scale to accelerate Europe's transition to 100% renewable energy consumption. We see this as the beginning of a very exciting journey towards what will become a fossil-free Europe by 2040", adds Erik Martinson, CEO and co-founder of Svea Solar.
In parallel with the acquisition coming into effect, a strategic branding work has been carried out and a brand-new visual expression has been created that will align with the vision of shifting the world's energy consumption to the renewable. In the long run, the shift requires a change on individual level, but we want to start by moving the energy issue higher up on the agenda and create increased relevance within the category - something we want our new brand to do:
- "We are not only updating Svea Solar's identity, in a way we give the whole energy industry a new face. We breathe a new life into an outdated industry with the intention of getting people to act and shift to renewable energy. The energy issue has long been characterized by low interest, but this is something that Svea Solar is here to change. We offer a brand and product that you want to incorporate into your lifestyle. It should be inspiring and easy to live sustainably without having to limit your consumption", says Nolan Gray, CMO and co-founder of Svea Solar.
The new expression and strategic platform has been developed together with London-based agency Justified Studio and Swedish Patriksson.